Powered Pleasure Craft Driving Licence Course (PPCDL) | Competent Crew Course | Day Skipper Course | Discover Sailing | Kayak
Powered Pleasure Craft Driving Licence Course (PPCDL)
Objective
The Powered Pleasure Craft Driving Licence (PPCDL) is required for driving a pleasure craft/ powered yatch that
are less than 24 meters in length within Singapore.
Entry Requirements:
– Above 16 years of age – Citizen, PR and foreigner
– Do not have colour blind – Able to see Red, Green, Yellow and White
How to obtain the MPA licence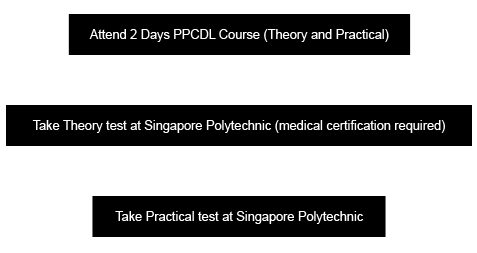 To facilitate and accelerate the pace of getting your licence, you can book at a Theory Test Slot from SMA prior
to taking the Course. Your Course Certificate is given to you upon completion of the PPCDL Course on Day 2.
http://www.sp.edu.sg/wps/portal/vp-spws/!ut/p/a0/04_Sj9CPykssy0xPLMnMz0vMAfGjzOJDPUxdjdxMTQz8TS0sDDz9LbxNLELCjEJczPQLsh0VARK3z4U!/?WCM_GLOBAL_CONTEXT
http://www.sp.edu.sg/wps/portal/vp-spws/pace.courses.short.list.details?WCM_GLOBAL_CONTEXT=/lib-pace/internet/short+courses/powered+pleasure+craft+driving+licence+%28ppcdl+english+theory+test%29
Course Details
(* Minimum 5 participants to commence a class)
Venue
Raffles Marina
Course Duration
2 Days
Course Fee
Raffles Marina Members – S$ 321.00 w/GST
Raffles Marina Members (Students) – S$ 267.50 w/GST
Public – S$ 353.10 w/GST
Staff – S$ 214.00 w/GST
Other Costs
One Day Theory Test (Computer-based 30 MCQ)
S$ 21.40 w/GST (Exam fee to be paid directly to Singapore Polytechnic)

One Day Practical Test
S$ 107.00 w/GST (Exam fee to be paid directly to Singapore Polytechnic)

Date and Time
0900 hrs – 1800 hrs | 14 – 15 January 2017
0900 hrs – 1800 hrs | 11 – 12 February 2017
0900 hrs – 1800 hrs | 11 – 12 March 2017
0900 hrs – 1800 hrs | 8 – 9 April 2017
0900 hrs – 1800 hrs | 13 – 14 May 2017
0900 hrs – 1800 hrs | 10 – 11 June 2017
Registration Stats: 18